UM LSA Honors website
Usability evaluation

Date: January - April 2017
Client: UM LSA Honors
Category: Usability evaluation
Client
The Honors program is a department within the College of Literature, Science and the Arts at the University of Michigan. This department maintains the LSA Honors website, which contains information for prospective and current students, faculty and staff, and alumni.
Context
The Honors program recently shifted its website to a new Content management system. Thus the staff is forced to transfer all the information from the old website to the new website template which has caused problems in the way information is organized and presented.
This problem exacerbated when the number of emails from students unable to find information on the website; to the Honors staff increased. Thus, the staff realized the potential usability issues with the website including confusing navigation and text heaviness on some of the pages.
My role
I collaborated with 4 other students from School of Information and was actively involved in each stage of usability evaluation.
Conducted interviews (as an interviewee and a note-taker)
Performed comparative analysis, heuristic evaluation and usability (both acting as a moderator and a note-taker)
Collaborated in the creation of a survey
Initial goals
As we started, we had the goal of making the LSA Honors website more usable and useful for current students.
Success criteria
Reduced number of emails from current students, asking about the information already listed on the website.
Scoping
Upon recommendation from the client and the current students being the major users of the website, we decided to narrow down our scope and focus only on the current students' section.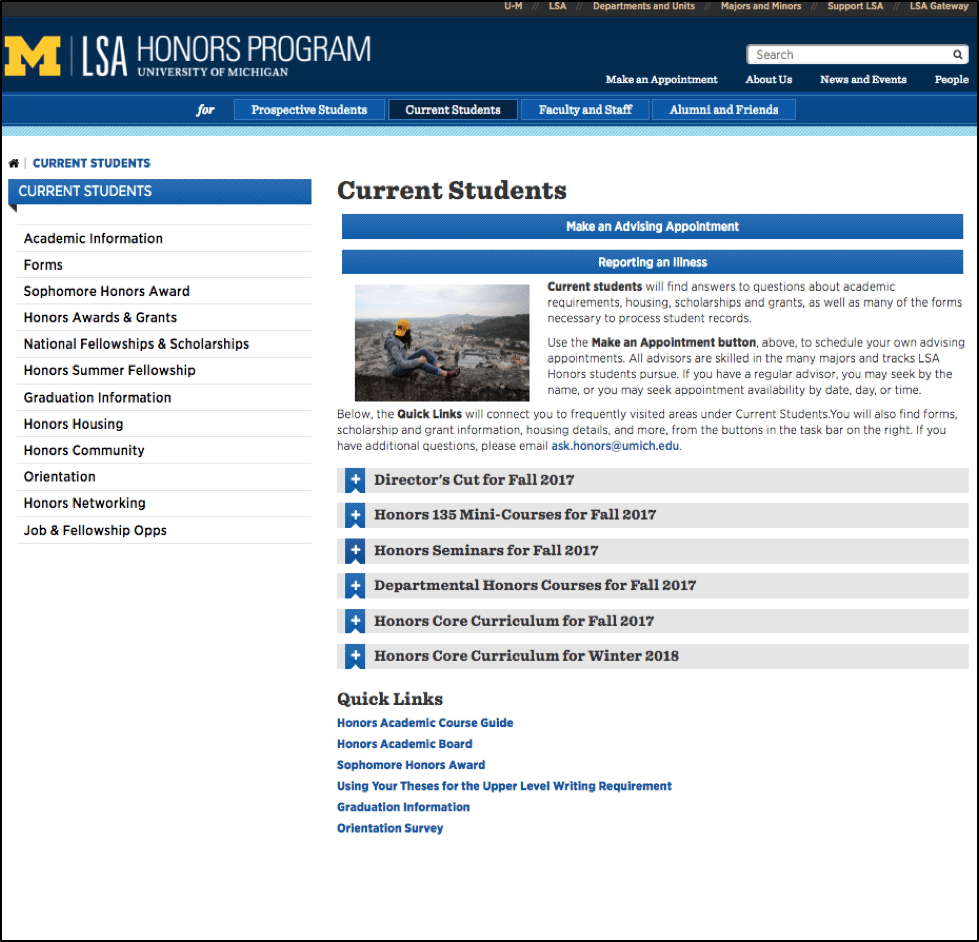 Landing page for LSA Honors website: Current Students
Research Methodology
Method #1 : Interaction Mapping
A static representation of the LSA Honors website highlighted all the possible action states and thus any navigation issues (if 2 actions lead to the same place) with the website.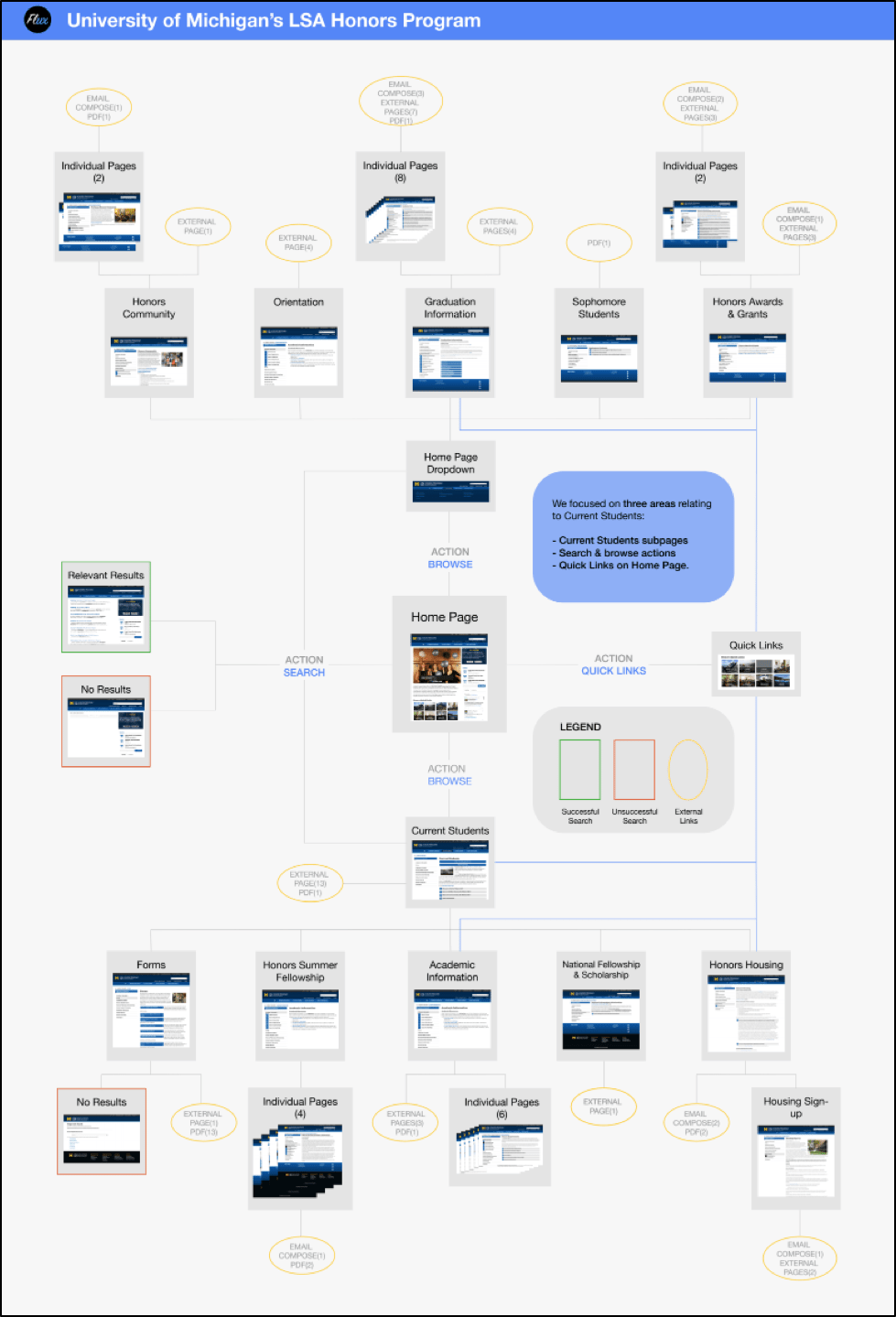 Mapping the entire LSA Honors website
Method #2 : Interviews
We conducted interviews with 5 current LSA Honors students to find out about the kind of information they look for and the methods employed by them in order to find it.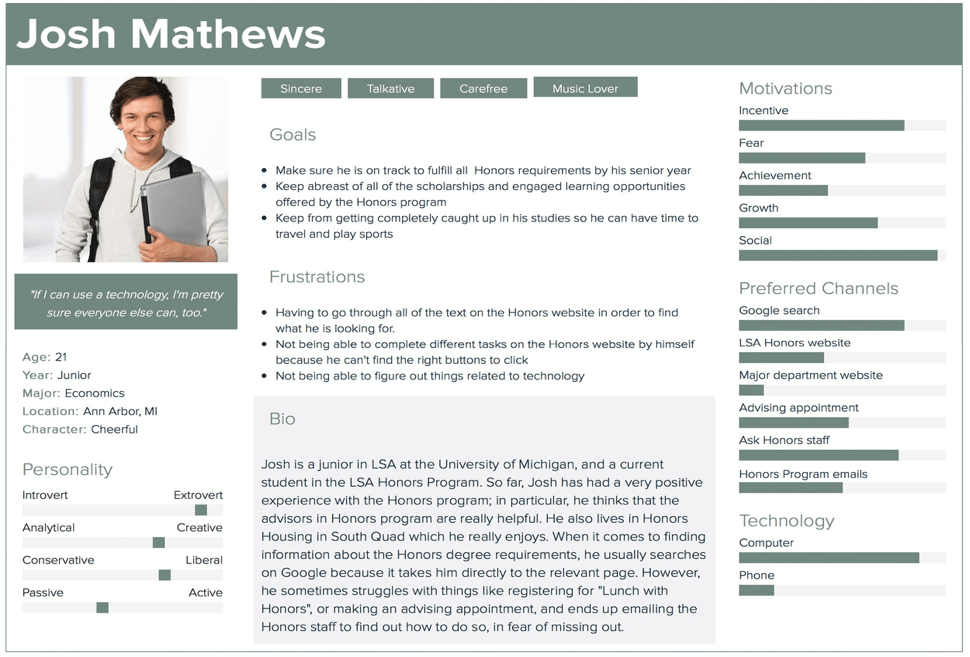 Persona based on interviews' findings
Method #3 : Comparative analysis
Through this, we wanted to see how other similar websites handle the issues related to information hierarchy, navigation structure etc.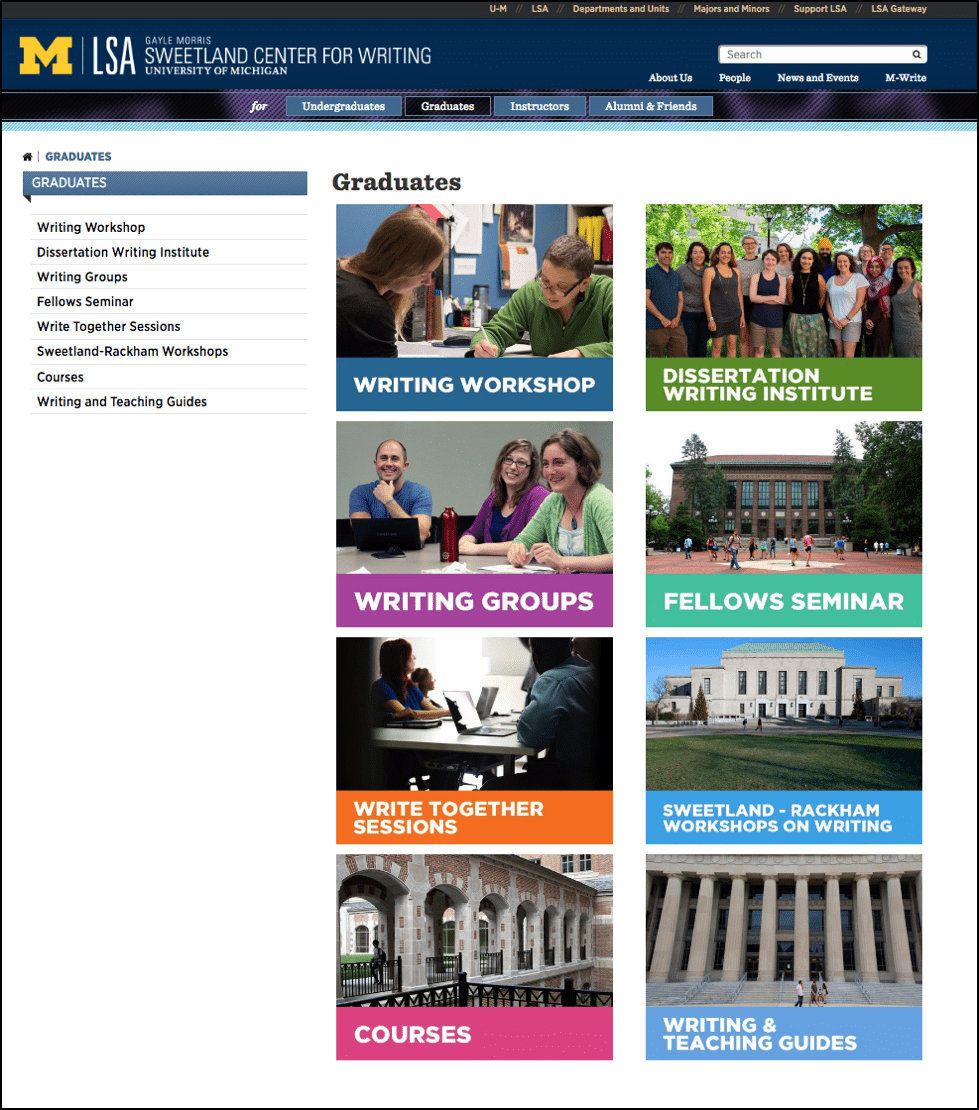 Presentation of information by LSA Sweetland writing center website.
Method #4 : Surveys
To find quantitative data about the information seeking behavior and the overall attitude of current students towards the website. Received a total of 28 responses.
In person help was the most frequently utilized method for finding information on the LSA Honors website.
Method #5 : Heuristic evaluation
Our goal here was to identify usability issues and areas where the site could be improved. We used heuristics like Visibility of System Status, Consistency and Standards, accessibility etc. to conduct our evaluation.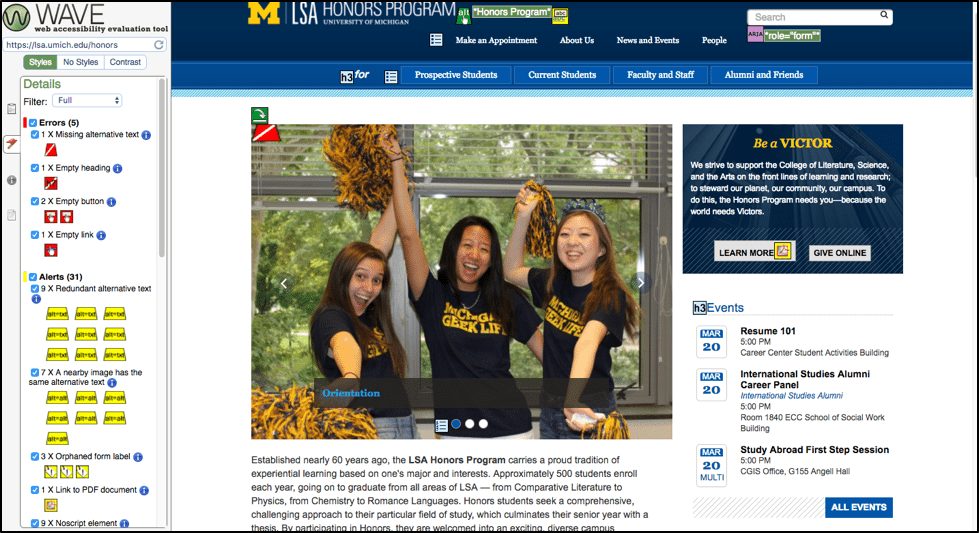 Using WAVE on LSA Honors website
Using WAVE Accessibility system detects issues such as missing alt text, empty heading and links, problematic alt texts, etc.
Method #6 : Usability testing
We conducted usability tests with 5 current students to identify how several features of the website like top-level and side navigation menus, quick links, search bar, accordions, headings etc. are helping the users to find the information they are looking for.
Due to large amounts of text on pages, users used Ctrl+F (browser find functionality) to look for information.
Main findings and recommendations
Finding #1
Navigation terminology could be improved: Information about some topics could be found at more than 2 places which makes it hard for the user to remember where to find it. Also, when asked to find out about the Sophomore Honors award, all our usability test participants looked under Honors Awards and Grants page, which is understandable. However, the information is located under the Sophomore students page or the Honors requirements page.
Recommendations for finding #1
More descriptive titles can be used for the pages that help the users in understanding what the page might contain. For eg.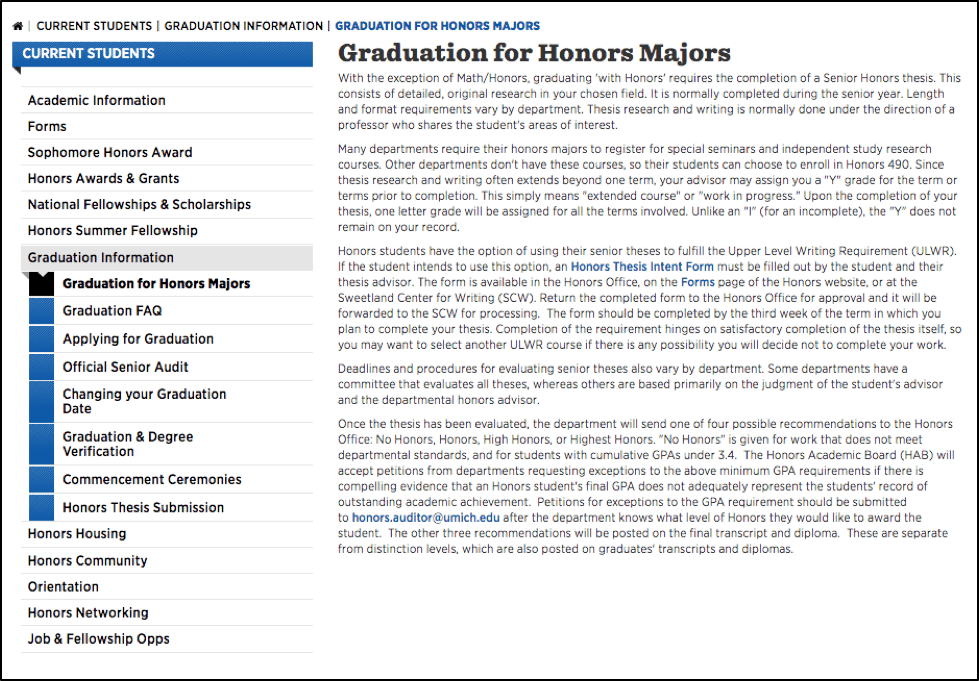 Graduation for Honors Majors page
The Graduation for Honors Majors page talks in great detail about the process of completing an Honors Thesis, which is something that users may not be able to guess from the page title.
Finding #2
Unclear information hierarchy on a page, which makes the pages hard to skim and thus relevant information being buried in a heap of text.
Many pages contain just a wall of text.
Pages lack headings and subheadings.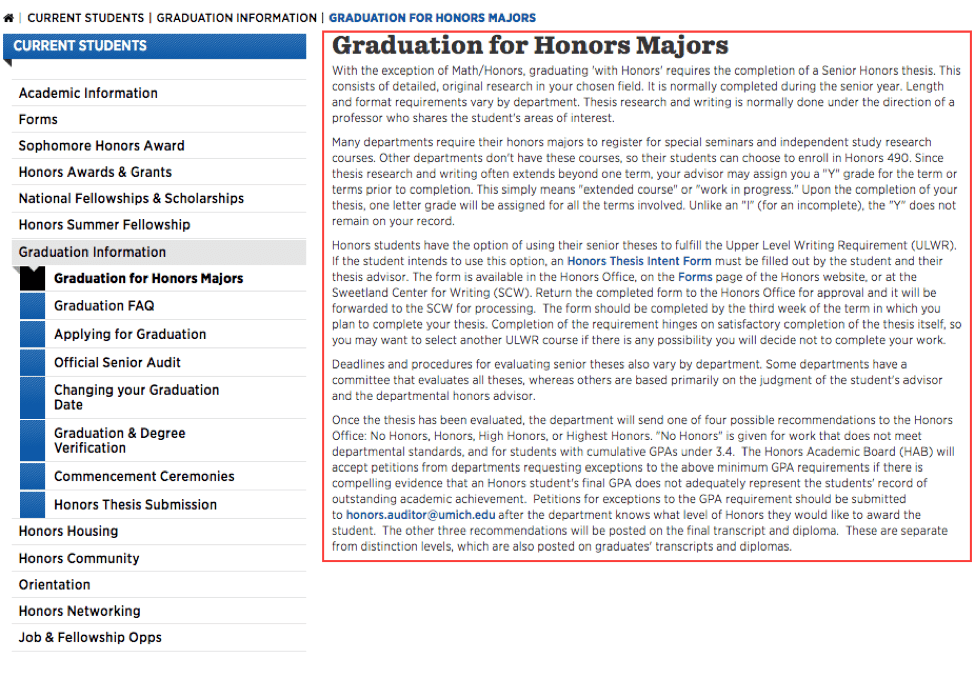 Graduation for Honors Majors page
Recommendations for finding #2
Add proper subheadings.
Make use of lists, indentation and bolded text to emphasize important information.
LSA Sweetland writing center website
LSA Sweetland writing center's website uses bold texts and headings which makes it really easy to locate information.
Finding #3
Accessibility issues - Recently, University of California Berkeley was asked to take off some of its free educational content as it was not accessible to people who were blind, deaf or hard of hearing. Read the complete article here. Owing to that, we checked the website for accessibility standards and found several issues:
Alt text attribute not set for many images, thus using the website could be challenge for screen reader users.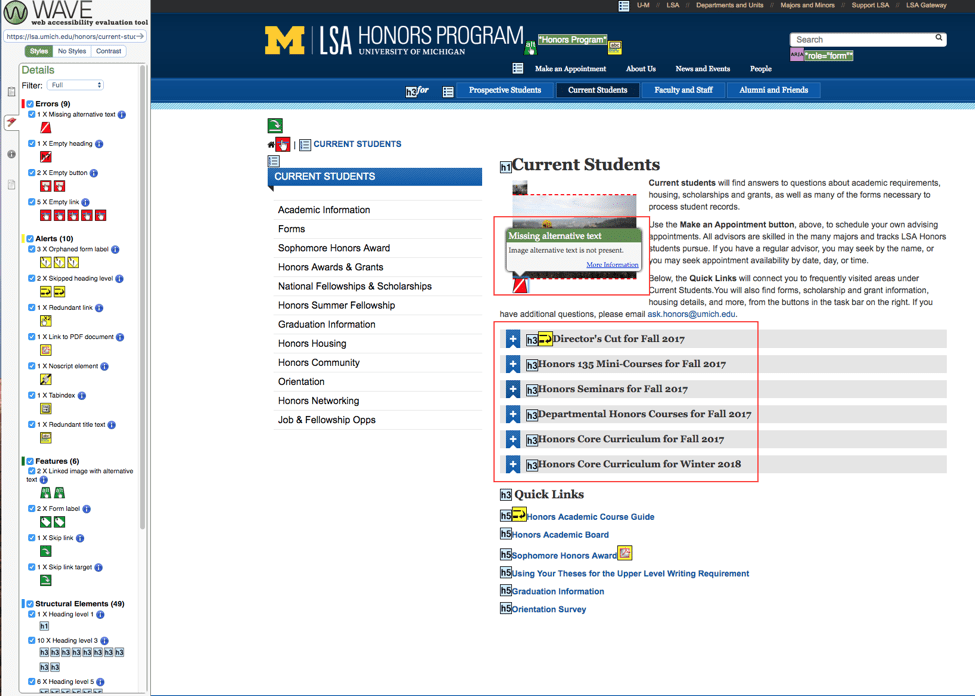 LSA Honors website lacking alt text attribute
Using WAVE Accessibility system detects issues such as missing alt text, empty heading and links, problematic alt texts, etc.In addition, Heading levels are often skipped, and b tags are often used instead of h headings, which keeps screen reader users from skimming the webpage.
Color contrast below the 4.5:1 standard. Sometimes there is low contrast between the different elements on the page.

Lack of color contrast on LSA Honors website
Use of b tags for headings. Screen reader applications rely on heading tags to jump to different parts of the page. Incorrect use of heading tags decreases the skimmability of the webpages for screen reader users.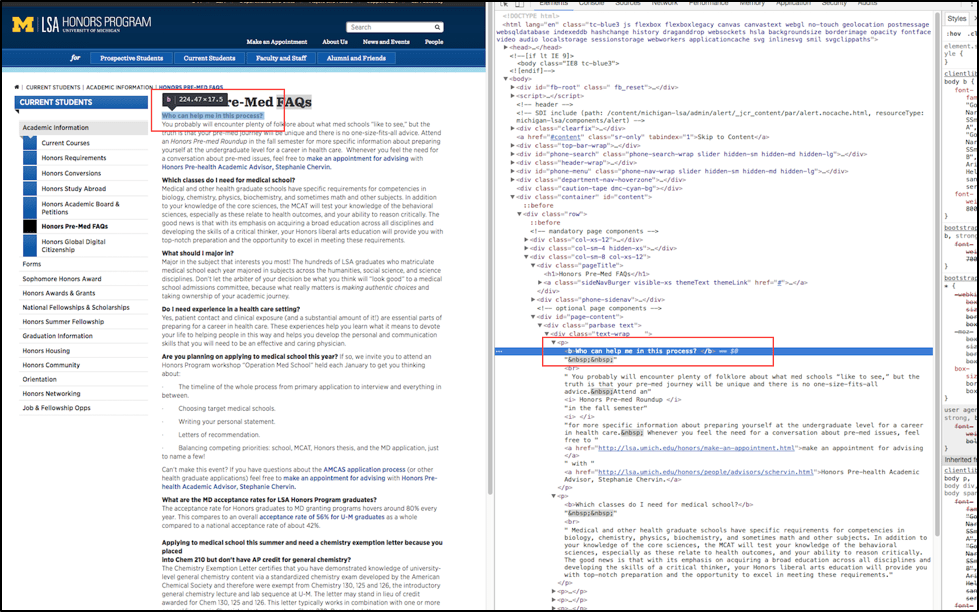 Using b html tags for headings
Recommendations for finding #3
Add meaningful alt text to images. This will make sure that the website complies with the ADA (Americans with disabilities act) and make it more accessible to its diverse range of users.
Using proper HTML tags for headings (h2, h3 instead of h4 and b). Adding proper HTML tags like h2, h3 rather than b, would make it easier for screen reader users to skim the webpages.
Use color contrast checker to make sure the color contrast meets the standard.
Next steps
Research and analyze the more frequently visited pages using Google analytics data and use these findings to inform a redesign of the website's information hierarchy.
Complete a card sorting activity, in which participants organize topics into categories that make more sense to them, to reorganize the website's information.
Shortcomings in the study
Many of our recruited participants either were associated with the LSA Honors staff or were extremely familiar with the Honors website.
Even after waiting for 2 weeks, we were only able to get 28 participants to respond to our survey, out of a total of 1900. Thus, the confidence level in the results obtained was very low.

Could have offered a raffle to encourage people to take the survey.
Employed other ways like approaching faculty to ask students in their class to take the survey.

All of our interviewees were freshman students which didn't give us the complete perspective of the website usage by current students.

Offering participants some incentives to participate in our study could have got us a more diverse set of participants.
Looking back
The timing of the survey could impact the results a lot. Since our survey was sent over the spring break, we were able to get very less responses on it.
Confirming assumptions using the web analytics data is a really good idea, but it should be done earlier in the process. In our case, we got the analytics very late in the process and thus we could not look at it carefully due to time constraints and adapt accordingly.
The Team